For the ultraviolet disinfection of the swimming pools, we supply equipment of the company PURION.
Disinfection by uv radiation, is the method of disinfection most natural that exist.
High protection against infection is achieved by eliminating harmful microorganisms to health.
And the ultraviolet light water combat microorganisms without side effects or toxic waste.
Furthermore, the great advantage of UV disinfection is to avoid the use of chemicals such as chlorine.
As it is shown that such products are very harmful to health and the environment.
In addition, we are specialized in the development, design and production of systems of uv irradiation.
Ultraviolet disinfection Pools
Thanks to the design of our UV disinfection equipment, efficient energy savings achieved.
In addition, they comply with the legislation to european laws and existing in respect to the disinfection by ultraviolet.
And you can use both disinfection drinking water. air and surfaces.
In addition, our equipment ultraviolet disinfection of swimming pools are high power.
And we have measuring equipment to check the quality of light of our UV lamps.
In addition, it will ensure control of the important parameters that contribute to the quality of the uv light.
And it is that our UV equipment and UV lamps are manufactured to high quality standards.
In addition, lamps for uv disinfection are also high power.
Y we can manufacture lamps of different powers according to the need of each client.
In addition, we also manufacture long-life and ultraviolet lamps. Long useful life.
Lamps also have broad emission spectrum adding more iron or gallium.
The design of the equipment ultraviolet disinfection pools allow easy lamp change.
Therefore, operating and maintenance costs are significantly reduced.
All of our products are of high quality and if you have any questions, you can fill in the form.
And we will contact you as soon as possible to inform you properly.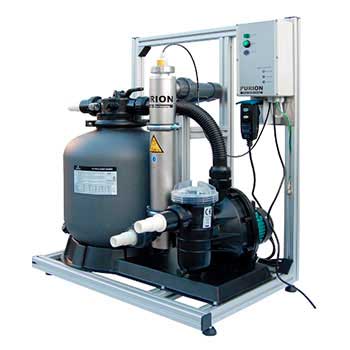 Advantage
Ultraviolet disinfection Pools
No use of chemicals.
Fast and effective disinfection.
Also, it does not change the taste and smell of the water.
Without risk for people and the environment.
Removes chlorine-resistant microorganisms.
There can be no overdose of chemicals.
Low cost of operation and maintenance.
Request information without commitment.
Ultraviolet Disinfection Equipment for Pools.