The uv disinfection equipment for water, air and surfaces, to guarantee a uv disinfection of the 99%.
Disinfection with UV lamps is the best way to avoid the use of chemicals.
This disinfection method is highly recommended to preserve the environment and our health.
For this reason, we do our utmost when it comes to manufacture our uv disinfection equipment.
Also, we are experts in manufacturing uv lamps for uv disinfection of water, air and surfaces.
And if you have any questions about it, you can fill in the form and we will be delighted to solve them.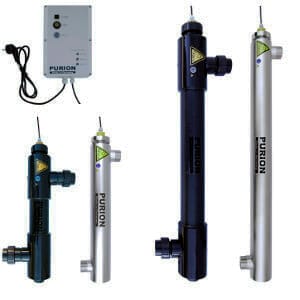 UV Water Disinfection
For the uv disinfection of water we supply uv equipment from the German company Purion.
Purion is one of the leading European manufacturers of uv ultraviolet light disinfection equipment.
It manufactures its OZONE-free low-pressure ultraviolet lamps with high safety standards.
In addition, the uv lamps for disinfection that manufactures them, are used in various applications and sectors.
Innovation and years of experience ensure that products meet strict quality controls.
In addition, all components and production processes used comply with European regulations.
So much lamps uv and equipment for uv water disinfection, stand out for their performance and durability.
Our flexibility and quick response, it causes us to adapt to the needs of our customers.
And makes it possible to develop systems customized and optimized to suit any need.
UV equipment
Equipment for disinfection of water, swimming pools or sewage requires regular maintenance.
And they need replacement parts to get the highest desired UV disinfection performance.
For this reason, they have uv lamps for disinfection and equivalent spare parts from any manufacturer.
We have spare parts whatever the manufacturer of equipment for uv water disinfection.
In addition, all of our uv disinfection products that we offer are of the highest quality.
We are convinced that our products will not leave you indifferent in terms of performance.
Water Disinfection
UV radiation is measured in a wavelength range from 100 nm. at 380 nm. (nm = nanometers).
And that in turn is divided into three sections (UV-A, UV-B and UV-C) with different biological effects.
In the 20th century, the Austrian physician Gustav Kaiser discovered that uvc irradiation was an efficient germicidal.
And that is why low-pressure UV lamps emit radiation with a wavelength of 254 nanometers.
Also, this 254nm range. is the most effective for disable DNA germs, viruses and bacteria.
And of the three ranges it is the most effective when it comes to disinfecting water, air and surfaces with UV.
The most relevant thing about using UV light to disinfect water is that no chemicals are used.
These products have been shown to be very harmful to the Health and the environment.
Using UV radiation as a disinfection method, does not alter the taste or PH of the water.
And if you have any questions, you can fill out the form and we will resolve.
UV disinfection
The uv disinfection of water with uv is the disinfection method more natural and ancient that it exists.
In addition, it offers protection optima against the danger of infections, eliminating micro-organisms harmful to health.
And UV light combat microorganisms water and air without causing any side effects or toxic waste.
In addition, the greatest advantage of uv disinfection for drinking water, is that it avoids the use of chemicals such as chlorine.
And it has been shown that these products are harmful to health and the environment.
In addition, we are specialized in the development, design and production of systems of uv radiation for any field of application.
And all our UV disinfection equipment are manufactured for the best energy saving.
In addition, our uv equipment comply with the european regulations regarding the ultraviolet disinfection.
And they can be used uv drinking water, waste water, air and surfaces both disinfection.
UV lamps
In addition, teams of uv radiation for disinfection are of high power .
And to be compact and optimized, you get the best performance at the time of disinfect.
In addition, we have measuring equipment to verify the quality of the light from our uv lamps.
And so will ensure control important parameters that contribute to the quality of UV light.
In addition, our equipment and uv lamps are manufactured with high quality standards.
And we can manufacture lamps of different powers according to the needs of each client.
In addition, we have uv lamps for disinfection of long duration (LL).
And we are ready to supply any long-life lamp (VL).
In addition, we manufacture lamps to extend the emission spectrum by adding more iron, gallium or gallium-indium.
And the ultraviolet equipment design allow easy and quick change of the lamps.
In addition, our products of water disinfection with uv rays, are high-quality.
And thanks to a low cost of maintenance and operation.
Advantage
The advantages of uv disinfection of water are:
No use of chemicals.
Fast and effective disinfection.
In addition, does not change the taste or odor of the water.
And without risk to health and the environment.
Kills microorganisms resistant to chlorine.
There can be no overdose of products.
Low cost of operation and maintenance of equipment.