Suministramos máquinas de tampografía de la empresa Printing International, principal fabricante de sistemas de impresión..
All our machines are designed for different sectors and applications industry print.
Y estámos especializados en máquinas para el sector farmacéutico que pueden imprimir comprimidos y cápsulas.
In addition, Printing International can manufacture any pad printing machine for the food sector.
Con nuestras máquinas de tampografía puede imprimir infinidad de productos, chocolate, fruta o caramelos.
Aunque la variedad de objetos que se pueden personalizar en tampografía es muy variada y dificil de precisar.
Si lo desea, rellene el formulario y le informaremos de cualquier duda que tenga relacionada con la impresión de su producto.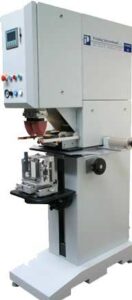 KYANITE
The Kyanite, it takes a servomotor that allows for high production.
And you'll get a great quality print.
In addition, it can be used individually or in a production line.
And you can also add system of cleaning, shuttle or turntable.
Máquinas pad printing
Kyanite pad printing machine two colors carries a servomotor that allows high production.
And a high-quality printing with the ability to print two colors is achieved.
In addition, you can print individually or in a continuous line of production.
And it's possible supply with options of system cleaning pad and a turntable.
Kyanite two colors
This machine tampografica print, it is compact, electro-pneumatic and direct connection to the table with support of parts.
In addition, you do not have the need for additional wiring, and you can add new features through the software.
And it has support pieces and rotary table designed to control the different types of pieces to print.
So you don't have the need for reprogramming or rewiring the pad printing machine when changing products.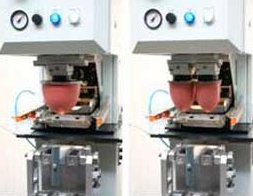 In addition, we are specialized in making machines for the pharmaceutical sector.
And you can print from tablets, capsules, packaging or any product the pharmaceutical sector.
In addition, all our machines are built according to the regulations, cGMP-5.
And all materials used in construction have FDA certification.
Pharmaceutical sector
In addition, the software used meets the guidelines, GAMP and 21 CFR part 11.
And the pad printing machines can print compressed by one or both sides.
In addition, you can print in one colour or several colours depending on the size of the product to be printed.
And the number of impressions of the equipment, ranges between 100,000 and 400,000 pieces per hour.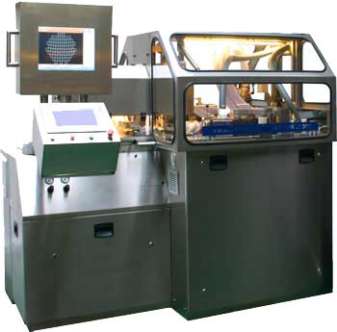 Pad printing
The machine for pad printing ATLAS, you can print plastic balls in 360°.
And the diameter of printing can be 110mm. or 250 mm. with a print capacity of 500 balls / hour.
In addition, our printing machine ATLAS, offers a quality of printing only.
And we have machines for pad printing, for printing bottle caps.
In addition, the ORION LCP-T can print plugs of different diameters and heights.
And the diameters that you can print, vary between 28mm. diameter 780mm. and the heights between 18mm. and 60mm.
In addition, we can customize the dimensions to whatever you need, our patented technology is unique.
And you can print images several colors or process colors at the top of the cap.
Máquinas pad printing
In addition, we use eco solvent ink or UV ink that you can apply a high-gloss finish with varnish.
The ORION, you can print process colors, and is designed to decorate caps of 2 mm to 28mm. diameter.
In addition, it can be adapted to different sizes, with a printing capacity of 70,000 blocks per hour.
Each color to be printed, you have your own printing station, reaching a print quality perfect.
In addition, it has auto-loading with pre-treatment of the surface to be printed.
And it is made between the drying system printing stations and with automatic extraction.
CPR-C (Rotary Caps Printer – Circumference) is designed to print in one color.
And is designed to print on the circumference of the bottle stoppers.
In addition, the maximum diameter of the printing is 49mm. diameter, but we can print other measures.
Rotary Pad
And the number of impressions is 7.250 plugs per hour, but can vary according to the reason to print.
The pad printing machine CPR-T (Rotary Caps Printer – Top), it is designed for printing caps.
And the diameter of impression can be of 38mm. and in several colors, although we can print the diameter that you need.
In addition, the printing capability of the RCP-T, is 140,000 plugs per hour.
Uses printing technology rotary, with which it is possible to achieve a continuous printing and constant.
In addition, it uses very little ink and has automatic loading, pre-treatment of the surface and extraction automatically.
And with this pad printing machine is obtained a printing quality and a few unique results.
But you can get in touch with us by filling out the form, we solve all the doubts.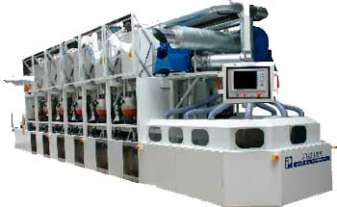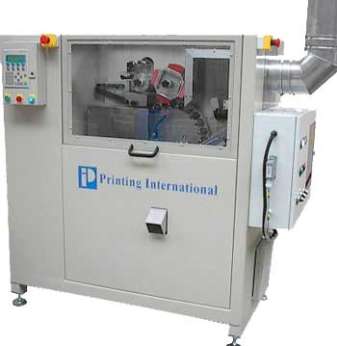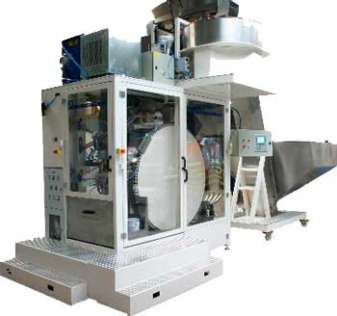 Further, Printing Int. Manufactures pad printing machines for the food industry.
And you can print from chocolate, fruit, candies or products you can imagine.
Further, our machines pad printing offer a resolution of up to 0.1 mm.
And we can manufacture the inkwell Printing patented closed and it is very easy to refill the ink.
Furthermore, the ink used for printing is completely edible and is certified by the FDA.