En Máquinas de Tampografía representamos a la empresa belga Printing International.
Además es uno de los principales fabricantes europeo de máquinas de tampografía.
Y todas nuestras máquinas están orientadas para diferentes aplicaciones de la indústria de print.
We can also print Tampon many products.
And you can fill out the form, and resolve all doubts.
Oxalate
Oxalate with few results are obtained print excellent.
Furthermore, this machine has PLC control system.
Which it is approved by the European standards.
Furthermore cycles can be individual.
And you can print a single cycle or continuously.
It is also possible to adjust the distance of the buffer and cliché.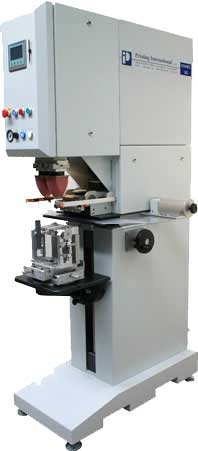 Kyanite
The Kyanite made Printing International.
It may take a servomotor that allows high production.
And with this you can get a great print quality.
It can also be used individually or in a production line.
And you can add options cleaning system, shuttle or turntable.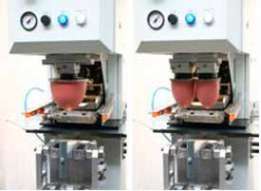 Kyanite Two Colors
Kyanite pad printing machine two colors.
In addition to carrying a servomotor that allows high production.
high quality printing is achieved.
It also has the ability to print two colors.
And it can be used individually or in a production line.
Furthermore it can supply with cleaning system options, shuttle or turntable.
Pad Printing Module
Pad printing machines printing compact electro.
It also has direct connection to the workpiece support table without additional wiring.
And when connecting the machine can add additional new features through software.
It has support pieces and the rotary table.
They are designed to control the different types of media pieces.
Therefore there is no need for reprogramming or rewiring the machine.
We specialize in machines for the pharmaceutical sector.
And we can print tablets, capsules or packaging.
In addition to any product for the pharmaceutical industry.
And our machines are built according to the cGMP-5 regulations.
In addition, the materials used have FDA certification.
And the software meets the GAMP guidelines and 21 CFR Part 11.
Máquinas pad printing
Pad printing machines to print tablets.
They can print on one or both sides of the tablet.
In addition, you can print one or more colors.
And depending on the size of the product to print.
The number of prints between 100,000 and 400,000 pieces / hour.
Download Catalog: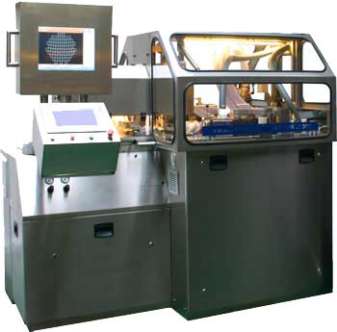 Printing Int. manufactures machines for the food industry.
And you can print from chocolate, fruit and sweets.
Furthermore any product imaginable.
our machines a resolution of up to 0.1 mm.
And the inkwell patented closed easily recharge ink.
In addition, the ink is edible with FDA certification.
Download Catalog: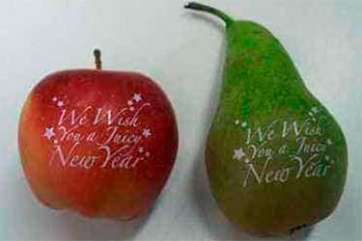 We provide pad printing machines to print pellets.
And the ATLAS machine can print 360 balls.
Furthermore the diameter of 110 mm printing ranges. and 250 mm.
And printing capacity is about 500 balls / hour in both hemispheres.
In addition our experience of all these years.
We know that maximum hemisphere colors 6 colors.
And our ATLAS machine offers a unique quality of printing.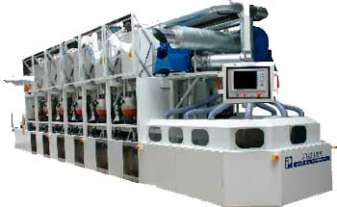 Máquinas pad printing
And we have pad printing machines for printing bottle caps.
Furthermore the LCP-T ORION can print bottle caps of different diameters and heights.
And diameters ranging from 28mm. to 780mm in diameter. and heights between 18mm. and 60mm.
In addition we can attach to the measurements you need.
And it is that our technology is unique and patented.
We can also print images several individual colors or color process.
And we can print on the top of the cap or on the circumference.
We also use ink solvent or UV ink.
And you can apply a high-gloss finish with varnish.
Pad printing machines
ORION cuatricomia
The ORION process color machine is designed to decorate plugs 2 mm. to 28mm. diameter.
Furthermore it can be adapted to different sizes and shapes.
And the ability to print four-color caps is 70,000 caps / hour.
In addition, each color has its own printing station and is designed to achieve a single print quality.
And it has automatic loading, pretreatment of the surface to be printed.
Besides drying system between printing stations.
And you can incorporate an automatic extraction.
Pad Printing Machine SPC-C
La RCP-C (Rotary Caps Printer – Circumference) es de un color.
And it is designed to print on the circumference of the bottle stoppers.
In addition, the maximum print is 49mm. in diameter in one color, although we can print other measures.
And the number of impressions is 7.250 caps / hour.
Also, if you have any questions please fill out the form.
And we will all soon as possible.
Machine RCP-T tampographical
The pad printing machine RCP-T (Rotary Caps Printer - Top) are designed to print caps.
With a diameter of 38mm. in diameter at 1, 2 or 3 colors, but we can shape the diameter you need.
Also they can be obtained up to 140,000 caps / hour.
And by using pad printing technology rotaryIt is possible to achieve continuous and consistent print.
Besides using very little ink.
Y has autoloading plugs, pre surface treatment for printing and automatic extraction.
In addition to this machine high print quality and unique results you are obtained.
So do not hesitate to contact us and we will resolve all doubts.