buffers Rotativos
tampons Rotary pad printing and all kinds of consumables Tampography
Our Buffers Rotary pad printing, are designed for industry pharmaceutical and print bottle caps.
But the field application It is very broad.
In addition they can be to print prefilled syringes catheters, inhalers and other dispositives doctors.
And from drugs, automatic injection devices, filters, pumps, bags and buckets.
buffers Rotativos
We can print laboratory equipment, Glass bottles and plastic beakers, flasks, pipettes and capsules.
So that our Buffers can manufactured for clean room environment according to cGMP regulations.
Rotating buffers can be of any size, diameter and height.
So a good print quality in Tampography begins by choosing the appropriate buffer.
You can send the object on which you want to print and we will advise you properly.
Tampons for tampon printing
Furthermore rotating the supply buffer in 48 hours with fixed core or star "removable" as shown in the image.
Use special silicone for rotary pad printing.
Therefore ask information and we will contact you as soon as possible.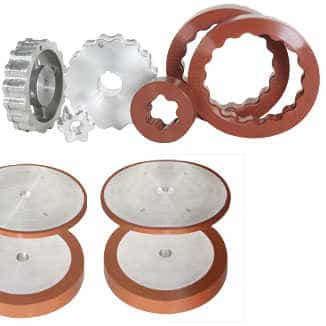 In Arrufat Pad Systems we are expanding the market.
And we have created a commercial department exclusively dedicated to the sale of UV products.
We have UV disinfection equipment for water and air.
In addition to UV lamps and any type of accessories or attachment related UV Sector.
UV Drinking Water Disinfection
Water disinfection by ultraviolet radiation, is the method most natural and oldest disinfection.
That's why it offers optimal protection against the danger of infections caused by microorganisms.
UV combat microorganisms without any side effects.
It does not produce hazardous to health or the environment toxic waste.
The biggest advantage of UV disinfection.
It is that the use of chemicals like chlorine, which are very harmful to health is avoided.
Please contact us, we will be happy to assist you and answer all your questions.
UV Water Disinfection
Recording Service Clichés Clichés Metal and Ceramic
Service Rotativos prints Metallic and Ceramic
Arrufat Pad Systems
Pad printing machines
rotary tampon printing Tampons
We buffer rotary manufacture of any diameter and hardness.